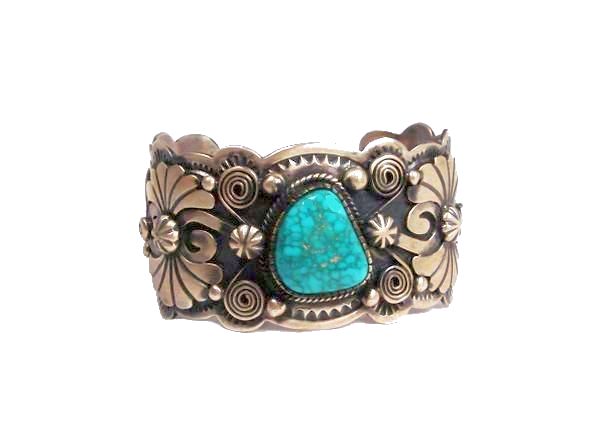 J985 Darren Livingston
Kingman Water Web Turquoise
Description
Appliqué sterling silver cuff by Navajo silversmith Darren Livingston. The 1 ½" wide cuff has a ½" x ¾" Kingman water web turquoise cabochon. The inside of the cuff is 5 ½" with a 1 ¼" gap.
The Kingman Turquoise Mine is one of the oldest producing Turquoise mines in North America. It was discovered by Native Americans over 1000 years ago. Kingman Turquoise is known for its beautiful blue color and the mine produces many variations of blue turquoise. The mine also produces turquoise with a wonderful "Birdseye" or "Water Web" matrix pattern.
About the artist
Darren Livingston
Navajo silversmith, Darren Livingston, lives in Church Rock, New Mexico, where he has lived most of his life and where his father and grandfather are from. He lives there with his family of four girls and a granddaughter.
He learned his silversmith trade at the age of 13 years old. Darren attended a boarding school in the early years of his life and spent most of his time there because his parents were struggling alcoholism. He went to a public high school in which he really enjoyed. After graduation, he became serious about making silversmithing his life's work.
Darren is the son of respected silver smith Paul Livingston. Having learned his skills from his accomplished father, Darren works in very similar materials: heavy gauged sterling, traditional turquoise and coral stones but reaches beyond to opals and other semi-precious stones as has his father. Though Paul's forte has always been more traditional even vintage looking Navajo style jewelry, his contemporary designs are also in high demand as is Darren's.