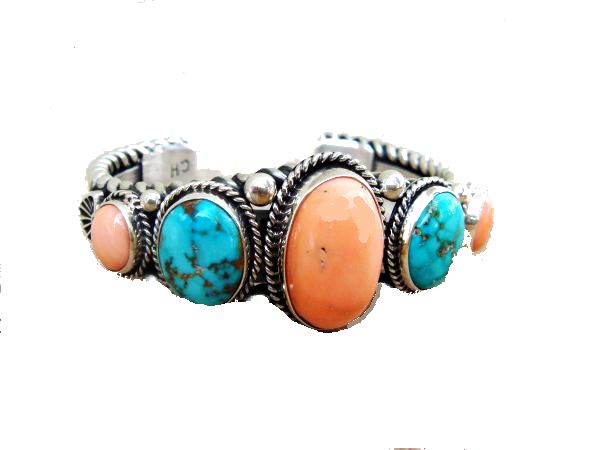 J676 Guy Hoskie
Salmon Coral and Turquoise Bracelet
Description
Guy Hoskie silver bracelet with three Salmon Coral and two Turquoise Mountain cabochons. The heavy gauge silver bracelet is ¾" wide and is signed GH, the hallmark for Guy Hoskie. The interior of the bracelet measures 5 1/4" end to end with a 1" gap.
Coral is one of the worlds few organic gems. It is composed of mineral calcite deposits. Many colors are found in the waters around the world, but Salmon Coral is one of the most beautiful and unique of the coral family
Although located in the Mineral Park Mining District outside of Kingman, Arizona, the Turquoise Mountain mine has been considered a separate classic mine because of the difference in it's appearance from other Kingman area turquoise. Turquoise Mountain turquoise has also been known as Old Man Turquoise. It has its own unique blue and blue-green color and many times has been found with a golden or beautiful rust colored spider webbing.
About the artist
Guy Hoskie
Guy Hoskie is 54 years old. He resides in Arizona and is married with two sons, both of whom are serving in the armed forces. He has been an amazing silversmith for eighteen to twenty years, creating jewelry since the early 1990's.
Brother-in-law to Sunshine Reeves and related to Andy Cadman, Guy learned right along with these other award-winning Navajo silversmiths. They all exhibit certain similarities in their work; Navajo revival style. Hoskie's works are usually covered end to end in beautiful deep Navajo hand stamped designs (much like that of the Cadman's and Reeves'). He adds a dark oxidation to the finished piece to give it the old pawn look.
Guy is well known for the quality of his pieces. He most frequently uses fine natural turquoise with heavy stamp work and serious attention to fine details, but also works with the highest quality Lapis Lazuli, Spiney Oyster and Sugalite.
His hallmark consists of his initials "G" and "H" with the word "Sterling" stamped between the letters of his initials.